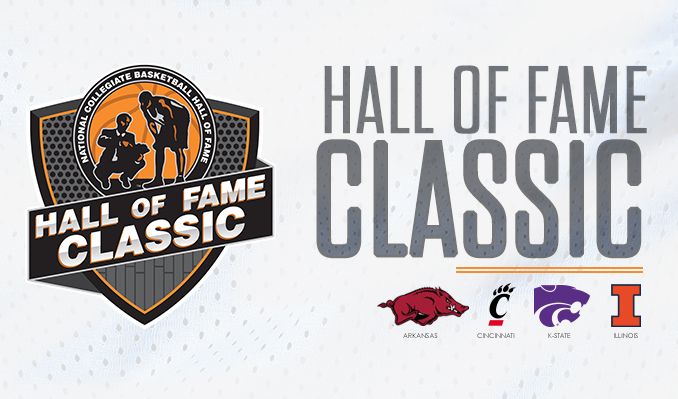 MEn's Basketball KC Alumni Block tickets for HALL OF FAME CLASSIC Tournament
Dates: Monday, November 22 Semi Final and Tuesday, November 23 Finals
Times:
11/22 - Illinois plays in first game vs. Cincinnati at 5:30 PM second game Kansas State vs Arkansas begins at 8 PM
11/23 - 6 PM is Consolation game, 8:30 PM Championship game
Place: T-Mobile Center
Tickets: Entry for both games on each night
Blocks reserved for Monday night in section 119 rows 18, 19 & 20 - Price $36.00 each.
Block reserved for Tuesday night in Section 115 top 5 rows - Price $36.00 each.
Block is in place until Thursday, September 30 for these tickets.
Note: Regular on-line price for tickets in these sections are $44.00 + $9.75 = $53.75 per ticket.
If anyone is interested in a less expensive option, and there are at least 10 tickets requested per night, we can get a block in the "end zone" likely sections 120 or 103, 109 or 114 with best view in that area for $14.00 each.
We still do not know which side Illinois will be on home or visitor. We did ask but they were unable to answer since it had not been settled when earlier information was given.
The KC Alumni Club is also planning a meet and greet with University folks tentatively set prior to Monday's game. More details to come.
Responses: If interested, email us with your name, email, cell # and number of tickets requested and date(s) of tournament.
Responses will go out by when they are received with information on how to pay for the tickets. Once you get the Venmo information, we will hold them for 48 hours before releasing them back to the pool. If more tickets are requested than blocked number of tickets, we will ask for more tickets in near by sections.