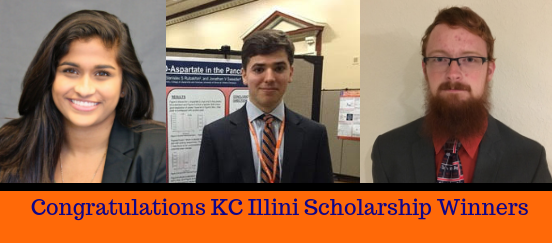 KC Illini SCholarships awarded
Congratulations to these three KC-area scholarship winners.
The Kansas City Illini Alumni Club is excited to award a total of $2,056 in scholarships to three U of I students from the Kansas City metro area. These students exhibit a sense of adventure, community, and will go on to represent both Kansas City and U of I well. Learn more about each of them by reading their bios below. Congratulations, Namita, Jack, & Miles!

Namita Kulkarni
Namita Kulkarni is a junior studying Materials Science at the University of Illinois at Urbana Champaign. She grew up in Overland Park, KS and now lives in Leawood, KS. In her free time she likes to spend time with her friends, bake, travel and take road trips.

Jack Schnieders
Jack Schnieders was born in Ottawa, Kansas before moving and living overseas in Beijing, China, and Jakarta, Indonesia due to his father's work with the Kansas City engineering company Black and Veatch. He is currently a junior at the University of Illinois at Urbana-Champaign, majoring in Chemical and Biomolecular Engineering. Jack began participating in undergraduate research sophomore year and is currently working to identify the presence of the molecule D-Aspartate in the human pancreas, which could potentially help with new diabetes therapies. In his free time Jack enjoys eating on Green Street with his friends and exploring the Illinois Arboretum.

Miles McKaig
Miles McKaig is a junior at the University of Illinois at Urbana-Champaign studying aerospace engineering and mathematics. He was born in Shawnee, Kansas, and spent much of his childhood living abroad in Senegal, France and Cameroon. In 2008, he returned to Kansas City, and later attended Olathe North High School. At the university, he is the Director of the Department of Propulsion in the student organization Student Space Systems. This past summer, he was a Fluids and Propulsion Analysis Intern at the Marshall Space Flight Center working on the Space Launch System. He is very grateful for the KC Illini Club's generosity in supporting his educational and professional pursuits.